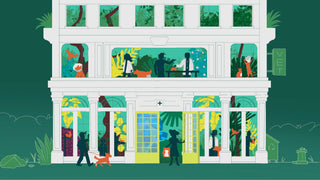 Corporate responsibility: How 3 animal health companies are living out their commitment to the environment
Leaders from Zoetis, Mars and MWI share what they're doing about greenhouse gas emissions, waste reduction and much more.
Read more
Animal planet: What climate change means for veterinary patient health
Warming temperatures and other environmental changes directly impact pets as well as wildlife and livestock. Veterinarians play a key role in creating a more sustainable future—if they are equipped and...
Read more
Meet cats and their owners: They're not who you think they are
Assumptions and stereotypes from the past are limiting the relationship between cats and the people who love them. When we educate about what makes a cat a cat and help...
Read more
The transformation from animals to pets
Dogs and cats have been working their way into our lives—and our budgets—for thousands and thousands of years.Bowman ReportJuly 2021
Read more
Four real estate trends that prove dogs are the new kids
Forget pools, massive yards and playgrounds—when your veterinary clients go to buy a house, it's all about the pets.Travis HittJuly 2021
Read more
Dog parks reinvented: A joyful spot for dogs and people
People's connection with dogs inspired the launch of a new business model that brings dogs and people together in one safe, harmonious location.Leib DodellJuly 2021
Read more
The economist's view: Embrace the chaos
We will get through this. We will be better as a result of this. We've got a tremendous opportunity to reimagine what we do, to rethink every assumption and put...
Read more
The recruiter's view: Job seekers win
Now is a good time to open yourself to new opportunities. Companies, including veterinary practices, are hiring and many will be at their best, because innovation takes place when there's...
Read more
The adoption advocate's view: Cautiously optimistic
Demand for adoptable pets is very strong and we haven't yet seen mass relinquishment, so it's fair to say that COVID-19 hasn't been too bad for homeless pets.David MeyerDecember 2020
Read more
The COVID Nineteen
Key insights from leaders in the veterinary industryBowman ReportDecember 2020
Read more