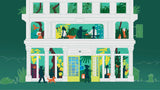 Corporate responsibility: How 3 animal health companies are living out their commitment to the environment
Leaders from Zoetis, Mars and MWI share what they're doing about greenhouse gas emissions, waste reduction and much more.
Read more
Animal planet: What climate change means for veterinary patient health
Warming temperatures and other environmental changes directly impact pets as well as wildlife and livestock. Veterinarians play a key role in creating a more sustainable future—if they are equipped and...
Read more
Sustainability Rx: A guide to reducing your practice's carbon paw print
You don't have to solve climate change to make an impact. Use these tips to make a difference right in your own veterinary clinic.
Read more
Point counterpoint: Celebrating National Veterinary Technician Week
Should technician week be about technicians or the whole team?Bowman ReportOctober 2021
Read more
The evolution of a technician: From lab assistant to high-level specialist
A history of the veterinary technician role reflects changes in views and values.Bowman ReportOctober 2021
Read more
Too much stress, not enough staff. Fact or fiction?
Surviving a low simmer of anxiety in the midst of a labor shortage takes communication and team spirit, not to mention a realistic look at the past, present and future.Bashore...
Read more
How tired are techs? Recovering from fight-or-flight mode
COVID made an already stressful job downright insane. I'm here to say you can find ways to care for yourself and others — and find your way back from burnout.Jade...
Read more
Vet tech pay: Would you like fries with that?
In the midst of a technician shortage, why aren't practices paying technicians in a way that makes them want to buy fast food rather than work in it?Mary Berg, BS,...
Read more
Stopping the exodus: How we can keep technicians in the profession they love
The stresses of being a vet tech have many of my talented and passionate colleagues leaving to pursue other careers. Several important changes could help us hold on to the...
Read more
The time is right for national credentialing standards for veterinary technicians
Standardization can solve issues of utilization, scope of practice, reciprocity and more.Erin Spencer, MEd, CVT, VTS (emergency and critical care)October 2021
Read more